Alaska Magazine Editor Slams Trapping

photo by Tim Woody, editor, Alaska Magazine
"This is no way to see a beautiful animal," starts Tim Woody, editor of Alaska Magazine. Feeling "pity, and anger" he documented the inglorious death of one of the planet's most maligned animals, the wolf. Look closely at the image and you can see the wolfs eye, acknowledging Tim. Look deeper into that eye and you might find it difficult to deny that the wolf has his own perspective, outside of what any trapper would like to believe for convenience sake.
"The wolf's struggle was evident for yards around the wooden post to which the trap was anchored. Trampled snow was covered with splintered wood, chunks of ice, and blood spatters. But this once-powerful animal was done fighting. Its eyes watched us, but it was too tired to hold its head up and track our movements. Its breathing was shallow. We wondered how long it had been there facing its slow, painful death. There is no state law mandating how frequently trappers must check their traplines. We wished we had a pistol, because the scene in front of us was one of dreadful suffering. A merciful bullet would have made everyone feel better."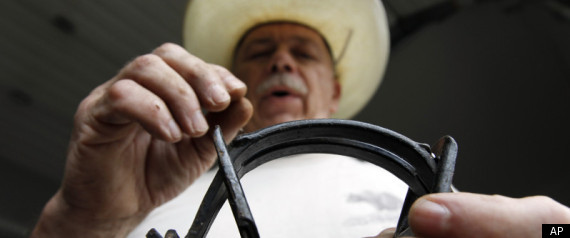 The Huffington Post recently ran the story "Wildlife Trapping: Brutal And Barbarous Or A Treasured Tradition?" It's quite a sensitive subject with trappers claiming that this "tradition" enables them to connect with nature and help ecosystems and animals. "It was my love for it that took
me into this career. I don't want to see anything suffer," says trapper Barry Warner in the article. Some of the article was dedicated to responding to the recent trapping investigation footage captured by Born Free USA. One scene in particular is quite difficult to watch as a raccoon is drowned beneath the foot of a trapper, struggling for its life, desperately wanting to come up for air.
"If trapping was doing evil, that would be one thing. It's not. It's balancing things," said Tom McDowell of the New Mexico Trappers Association. This illusion of man being needed to "balance things" is and the term "Wildlife Management­" are problemati­c in themselves, if not delusional. It suggests that "nature" is unable to regulate itself (as it has done for millions of years) and needs our wise control. Remember how successful wild-fire management was, starting in the early 1900s? Instead of saving the wild, It has greatly increased the risk of damaging, high-inten­sity wildfires in a range of American wildlands because people thought nature needed to be "managed".
What we're really managing is the effects of our own over-devel­opment, overpopula­tion, infringement upon, demonization and destruction of everything wild.
What we're really managing is the effects of our own over-devel­opment, overpopula­tion, infringement upon, demonization and destruction of everything wild. More damaging than any "pest" is wildlife corridors disappearing, damns clogging up every river system (more than any beaver), and wild animal habitat decreasing and being replaced with suburbs and malls and highways. Animals are seen as economic units as opposed to valid individual'­s. That lack of validating animals is part and parcel to a larger ideology, not a solution. Dealing with an invasive "pest" like nutria by turning it into an "ethical" fur garment ignores the reason nutria became a problem in the first place (the fur farmers brought them to the United States  in the early 1800′s after the species was nearly driven to extinction in their native habitat of South America.)
It's not shocking how terms like "pests" function as a rationalization on a massive level. It's not a surprise that giant population disturbanc­es occur among wildlife. Instead of finding real solutions to what we messed up, like demonizing and killing off the wolf and other predators, we are lost in a machismo and nostalgia-­deluded fantasy of the Bible telling us to subdue and control evil nature.
We could save the wolf. Tear down the dams. Stop expanding developmen­t into wild habitat. Create more corridors. Stop cutting off natural corridors with more highways. Stop flattening forests and mountainto­ps. Stop building massive pipelines through crucial habitat. Stop exploring for oil in crucial habitat. Stop trophy hunting. If the coyotes are after your egg-laying hens, grow eggplant instead or build a better fence.
When we validate a raccoon, we must also validate his habitat and therefore must protect both. When he or she is simply an economic unit, a designer-coat-in-the-rough, the entire ecosystem is also a mere stockpile of economic units to be harvested on a whim. Trappers must stop feigning concern for the very animals they subject to a cruel death and start using critical thinking and better problem solving skills. Trapping is a past-time, not a solution to ecological destructio­n. The lure of easy power over the defenseles­s, and a masculine fantasy of themselves as rugged frontiersm­an is what many trappers are after, though few realize or admit it. There are other ways to experience the wild, many of which can actually help the wild thrive.